Novena Prayer to the Infant
The League of the Miraculous Infant Jesus of Prague Prayer Card
Jesus, Who said: "Ask and you shall receive, seek and you shall find, knock and it shall be opened to you," through the intercession of Mary, your Most Holy Mother, I knock, I seek, I ask that my prayer be granted.
(Make your request)
O Divine Jesus, Who said: "Unless you become like little children, you will not enter the Kingdom of Heaven," grant me the simplicity and wonder, the tenderness and gentleness of a child. Fill me with innocence, hope, and love.
(Make your request)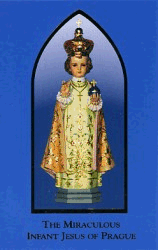 O Divine Infant, help me to know how close You are to me and how powerful is Your embrace. Help me to trust that You do hold the whole world in Your hand. I place my every need and care in Your hands.
(Make your request)
Prayer to Honor the Miraculous Infant Jesus of Prague
Divine Infant Jesus, I want to give You my hands today. I want to serve You with all my heart and make You known and loved. Doing Your will is the source of my inner peace and joy.
Divine Infant, I give You my hands to touch those I meet with Your love and peace. I ask You to heal those in pain, to encourage the hopeless, to console the sorrowing, and to provide for those in want. I ask You to reach out to the lonely. I especially plead for the many people suffering from great poverty and injustice.
Miraculous Infant, I believe that You love me and know all of my needs. I place them in Your hands, especially my present concerns (mention here). I trust in Your love and care. I want to honor and praise You, now and forever. Amen.